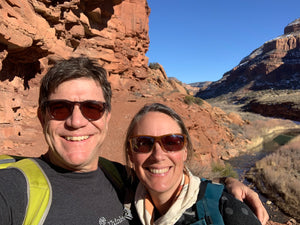 A Shared Path to Healing
There is nothing more important to Tim and Jenna than leaving a lasting, positive impact on those whose paths they cross. Your joy is their joy. Your happiness is their happiness. Since 2015 when they first began developing Tim's Naturals, they have found that helping people move beyond their pain was the greatest gift they could imagine. The idea of being able to help friends, loved ones, and those they may never meet, is one that drives them to create these responsible, natural and effective wellness products. 
Meet Tim
The Teacher
From the time in first grade when he was sent to detention for helping his classmates with their math worksheets to today, fully immersed in a profession where he is able to help heal and educate clients about the functionality of their own bodies, Tim's desire to teach and help others has been a guiding force in his life. Tim has taught and given lectures on meditation, bodywork and massage for over 23 years, which has enabled him to reach an even greater audience than simply practicing on his own. Now, having founded Tim's Naturals with his wife Jenna, Tim is grateful for the added opportunity to extend his healing touch on an even larger scale.
Meet Jenna
The Maker
Jenna's thirst for knowledge, nature to nurture and desire to work with her hands, have always driven her passion for creating. While living on their farm in Paonia, Colorado, she baked, canned and knitted, enjoying making useful items and the true sense of accomplishment it provided. Since then, Jenna has poured herself into crafting the Tim's Naturals product lineup through trial & error, reading, and learning from those she considers to be experts. Making products she can stand behind and meeting the people whose lives have been affected by Tim's Naturals products is something she finds truly inspiring. Working with a team of like minded individuals committed to responsible business and making the world a better place, is her icing on the cake.
Naturally Different
100% Natural
Each ingredient in our product lineup is Carefully Chosen, Organic, Fair Trade, Non-GMO, Wild Harvest, and Ethically Sourced.
Conscious Care
Our products are intentionally and carefully crafted, as are our business practices - from marketing to packaging and everything in between.
Overall Effective
Our line is created utilizing essential oils that work together, serving purposes ranging from analgesic & anti-inflammatory to vasodilation.