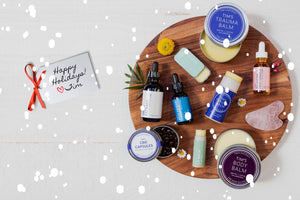 NOW THRU NOVEMBER 27TH, 2023 - NO CODE REQUIRED | ALL ORDERS TO SHIP ON 11/27

Wellness defines us. Not just our own wellness, but the wellness of others and the environment that surrounds us.
JOIN THE MOVEMENT
Conscious Consumerism is the wave of the future for businesses and consumers looking to do right by the community and the planet.
We Support Each Other
With every purchase of Tim's Naturals products, you support the planet and other community organizations. Our goal is to donate 10% of our profits and pay it forward. Really.
Don't take our word for it
★★★★★

My dry Colorado hands, feet, & body crave this balm! During quarantine, my hands were in the worst shape I've ever seen them in from all the hand sanitizer and obsessive washing! Tim's Body Balm was great for all day moisture and Tim's Trauma Balm was a life saver for overnight use on my hands and feet! This stuff really is the balm! 🥰

Sarah
★★★★★

This product simply works. After using it for a while to manage pain or stiffness, I recently tried it on my lips to treat cold sores. The balm moisturizes without clogging up sores, soothes and instantly relieves discomfort. I noticed that the sores/lips heal significantly faster. Tim's Trauma Balm is my absolute go-to! I even use it on my pup. The ingredients are natural and such high quality, that I don't have to worry at all if he licks it off.

BG
★★★★★

Trauma Balm has been my go-to for all the manual work that I do in my physical therapy practice. I work in a very fast-paced, demanding environment with professional dancers and Broadway performers. Tim's salve works absolute wonders to help quickly release restrictions. It makes my work a lot easier! Thank you!

Katrina R
★★★★★

I am literally addicted to lip balm. I have eternally dry lips. I was able to get my hands on some of Tim's Lip Balm cocoa mint and I've found "my jam". Lips feel great. Apply far less frequently. Balm lasts for-e-ver. Great product!

James
★★★★★

I've been putting Tim's Trauma Balm on my feet at night because I haven't been sleeping well. It makes a world of difference. I have been sleeping through the night for the first time in months.

Kyle A
★★★★★

The only downside to finding a skin-care product that's absolutely incredible? Realizing you'll never, ever want to stop using it. I've been using this face oil for a few weeks, and it's the only one I've ever used that shows immediate and lasting results. I love how the golden tint makes my skin glow, it's super hydrating even in dry climates, and it calms and evens the tone of my acne-prone (and acne-scarred) skin literally overnight. I love the story behind Tim's and knowing that the product has only the best ingredients — and nothing more.

Lauren
★★★★★

I've been using Trauma Balm for a couple years now on sore muscles. Just used it in place of Chamois Butter on the Great Divide Mountain Bike Trail and it literally saved my ass! Thanks for creating such a great product!

Jeff S
★★★★★

I'm so glad that CBD is finally being recognized for all of its health/ healing benefits. When I want relief from serious injuries or physical discomfort I turn to this before Ibuprofin. For me it relieves my pain in a very effective way. CBD is also more kind to my constitution when taking this for longer periods of time to help heal an injury. Sometimes I take this to help promote better sleep. Yay for CBD!!

Kristen H
★★★★★

Our daughter lives in Telluride and introduced us to your products last year. In turn I introduced them to several ladies in my office back here in Texas. The balm is just that!!! THE BOMB!! I have found so many ways to use it and ALWAYS reach for it for burns in the kitchen to scratches from the cat!! THANKS for making such a great and natural product

Ovetta H.
Naturally Different
100% Natural
Each ingredient in our product lineup is Carefully Chosen, Organic, Fair Trade, Non-GMO, Wild Harvest, and Ethically Sourced.
Conscious Care
Our products are intentionally and carefully crafted, as are our business practices - from marketing to packaging and everything in between.
Overall Effective
Our line is created utilizing essential oils that work together, serving purposes ranging from analgesic & anti-inflammatory to vasodilation.