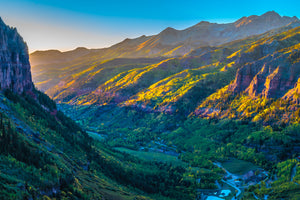 IS WHERE OUR STORY BEGINS
The wild frontier
Tim and Jenna live here. They met here. They were married here. Their children were born here. Colorado is HOME.
With an endless love and respect for the mountains that surround them, this landscape is the one that has formed them into the people that they are today: People who care about protecting the beauty and splendor of Colorado's Public lands as well as other wild lands of the world. 
Colorado is filled with active people of all ages, each of which inspire the Team at Tim's Naturals to keep moving and push ourselves to be the best that we can be. Encouragement and support have poured out of our community and motivated us to continue on with our efforts toward conscious consumerism, while providing people with effective and responsible wellness products. 
Colorado is on the cutting edge of CBD production and legislation, as a state that produces the highest quality hemp available. Utilizing Colorado grown CBD alongside fair-trade, non-GMO, organic essential oils, has allowed us to craft a line of products that we can stand behind.
Naturally Different
100% Natural
Each ingredient in our product lineup is Carefully Chosen, Organic, Fair Trade, Non-GMO, Wild Harvest, and Ethically Sourced.
Conscious Care
Our products are intentionally and carefully crafted, as are our business practices - from marketing to packaging and everything in between.
Overall Effective
Our line is created utilizing essential oils that work together, serving purposes ranging from analgesic & anti-inflammatory to vasodilation.